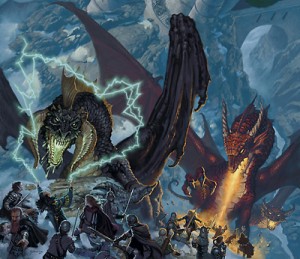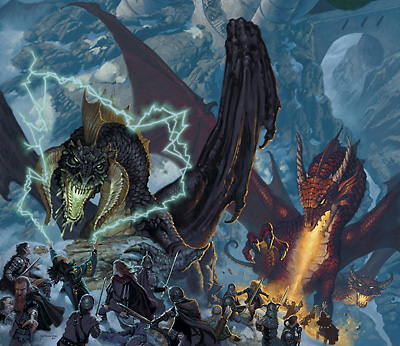 Dragons should be like Big Foot or the Loch Ness Monster – often talked about but rarely, if ever, seen. Just because the second "D" in D&D stands for Dragons doesn't mean that you have to use them all the time. Overusing Dragons amounts to nothing more than abuse. Leave the Dragons alone and leave them out of your campaign.
Call me old school but I believe that Dragons should be feared and revered. When the PCs face a Dragon they should be scared. There should be no smug air of confidence. Any time a Dragon is part of the combat there should be a very real chance that PCs will die. However, very few DMs seem to hold this belief any more. It seems that Dragons have become the standard go-to villain for many adventures, especially low-level adventures. Just look at a random sampling of LFR (Living Forgotten Realms) adventures and D&D Encounters: Keep on the Borderlands and you'll see exactly what I'm talking about. From where I'm sitting this amounts to nothing more than Dragon abuse. Stop throwing Dragons at every party!
Dragons were originally some of the most powerful, dangerous and feared creatures in the game of D&D. When you faced a Dragon you knew it would be an epic battle. The Dragon was the big bad guy at the end of a long quest. It was the master that all of the other villains served. The idea that a level 1 party would ever fight and hope to defeat a Dragon was absurd. No one ever thought to try it because it was a crazy idea.
Yet over the years Wizards of the Coast (and TSR before them) felt an obligation to give DMs stats for Dragons at all stages of their life-cycle. This meant that PCs could face smaller, weaker Dragons and have a reasonable chance at victory. What most DMs forgot was that just because they had low-level Dragons in their Monster Manual didn't mean that they had to use them. Dragons have always been among the rarest monsters in the book, so the likelihood of even finding and fighting one was still rare.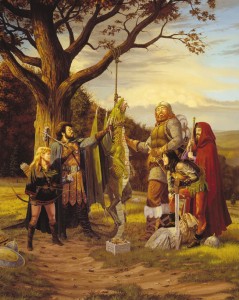 Do you recognize this painting? It's called "Dragon Slayers, And Proud of It!" By Larry Elmore and it was on page 7 of the AD&D 2e Players Handbook. I love this painting. When I look at it I see more than just the five adventurers standing victorious over a very young Green Dragon. I see experienced heroes who likely threw everything they had at this Dragon in order to defeat it. The Dragon itself doesn't even look that powerful. After all it's only about 10-feel long from tip to tail, yet it still took five heroes to kill it. When I look at this painting I've often wondered if the adventuring party always had five members or if some companions died during the fight. This painting more than any other made me realize just how powerful and dangers Dragons are, no matter how young or how small.
As a DM, I like Dragons. I like they raw power they represent and the multitude of options they have to eliminate threats. They scheme, plan, plot and use their superior intellect to the best of their ability. They often employ minions and henchmen to act as go-betweens, scouts and guards. Rarely will a party find a Dragon completely alone, especially in his liar. But as cools as Dragons are, I know that they have to be used in moderation. Overusing them is nothing more than abuse.
My plea to all DMs is to suppress your desire to make every major villain a Dragon. Hold the Dragons back for special occasions and important story arcs. Given the rarity of Dragons PCs shouldn't see more than one in their lifetime. If they do, they should never see more than one at each tier of play. In fact, a Dragon that faces the party at heroic tier will likely flee before being killed and eventually battle them again at paragon tier when both the PCs and the Dragon are more powerful.
Dragons need to be withheld. As tempting as it might seem to pit a party against a Dragon early in their adventuring career, DMs must resist this urge. By keeping Dragons out of the mix and more importantly out of combat, the PCs will better understand just how rare these creatures really are.
Just because there are rules and mechanics to create a balanced encounter that includes a Dragon doesn't mean that you should include a Dragon. In fact I beg DMs not to do so until the PCs are ready for it. Perhaps an example from my very own gaming table will illustrate my point and reinforce the value of doing so.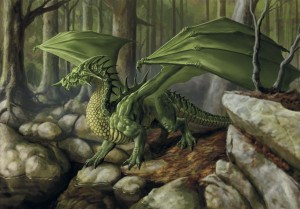 A couple of years ago in my home game the PCs inadvertently stumbled into a Green Dragon's hunting grounds while travelling through a secluded forest. We were level 6 at the time and certainly capable of defeating any balanced encounter the DM threw at us. But when we saw the Dragon we trembled with terror. We knew that fighting it was suicide. Fortunately our leader, a Warlord with a good head on his shoulders, decided that parley was the only option if we were to escape with our lives.
The Warlord made a quick monster knowledge check and then humbled himself before the Dragon, appealing to the creature's ego and greed. As compensation for disturbing the Dragon, the Warlord offered his most powerful magic item (an Amulet of Protection +2) and all of the party's gold in exchange for letting us go unharmed. A few Diplomacy checks later and the Green Dragon accepted the offer. The party fled as fast as they could, considering the exchange more than fair since we suffered no casualties.
After the encounter was completed the DM asked us why we didn't just fight the Dragon. We explained that we had no way to gauge the Dragon's power and considering their rarity we assumed it was pretty tough. It turned out that the Dragon was a level 6 monster and probably something we could have defeated, but none of the players even thought to try fighting. Our experience (both in and out of character) trumped the encounter's mechanics. So even though the DM wasn't trying to make us fight a foe we couldn't defeat, we didn't know that. And even if we did, I think the idea of role-playing made a lot more sense then having them fight the Dragon.
The players all agreed that until we hit paragon tier, fighting a Dragon wasn't a very good idea. Months later upon reaching paragon, the DM presented us with an opportunity to return and fight the Green Dragon. The resulting battle was huge and the victory ended a long-term story arc for the party. Those PCs are now approaching the epic tier and in all that time they only ever encountered the one Dragon. During their travels they've never even heard whispers of other Dragons. That's how rare these creatures are, or should be.
If you ignore my earlier plea and continuing to abuse Dragons they become commonplace. The idea that Dragons are everywhere is incredibly silly to me, but I know that some people do indeed play in this kind of world. Some players enjoy playing in a campaign where they fight Dragons all the time. I'll admit that defeating a Dragon is pretty cool, but if I fight one (or more) every level it's bound to cheapen the experience.
Think about it, if you fought ten or more Dragons as you progress through the heroic tier, would a paragon level Dragon seem powerful and scary? Probably not. You'd yawn as you realize that you're facing yet another Dragon. DMs who throw Dragons at you all the time belittle their camping and rob the players of the thrilling experience that slaying a Dragon should bring.
The only exception that I can think of for a campaign that has multiple Dragons in it is if the party intentionally goes looking for them. If they are a party of would-be Dragon slayers then this is a possible exception to the one Dragon per tier rule. I see this kind of campaign being rich in role-playing since anyone who deliberately seeks out Dragons (plural – more than one) must have some pretty heavy emotional baggage or a loose screw in the head. But outside of this unique campaign exception, Dragons should continue to be exceptionally rare in all campaign.
Are you abusing Dragons? Do you find that the players still enjoy fighting Dragons after seeing them all the time? As players do you want to fight Dragons over and over again? Do you feel that facing more than one Dragon per tier cheapens the awe that Dragons should inspire? What about those who have played in Dragon slayer campaigns, did fighting Dragons eventually get boring? Let us know where you stand on Dragon abuse.

Looking for instant updates? Subscribe to the Dungeon's Master feed!