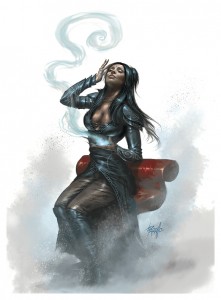 No power is greater than the ability to see the future. Whether it's the ability to determine if turning right or left will lead to a better outcome or foreseeing the death of friends and family, knowing what lies ahead often tips the scales of power heavily towards the diviner.
In fantasy literature divinations are often vague and described as prophecy. Rarely does any character get a clear picture of exactly how things are going to unfold. After all everyone has free will and actions can be unpredictable. Divination magic assumes that people will continue along the paths that they're most likely to take.
The advantage that authors of fantasy literature have when they're creating stories with divinations is that the author controls all aspects of the story. This is certainly not the case in D&D (or any RPG for that matter). The DM may design and set the framework for the story, but with up to six players making decisions on how things are going to play out it becomes next to impossible for the DM to predict what's going to happen next with any certainty.
This more than anything else is what makes divination magic so difficult to include in any edition of D&D. If the event divined doesn't involve the PCs directly then the DM can more likely ensure that the event happens, regardless of steps the PCs take to change the outcome. For example, if a divination spell provides the PCs with information that some important NPC will be dead within the week, the DM can just throw roadblocks in the way of the PCs to ensure that the NPC dies.
The danger in using divinations is that many players will often try to change negative outcomes. So if they foresee someone's death they'll take it upon themselves to try and stop it. Unless this is the focus of the campaign then things are likely to get messy and head of the rails in a hurry.
With the potential complication that divination magic brings to a campaign it's understandable that many DMs prefer to just shy away from it all together. However, I'm a big believer that players should be able to play whatever kind of character they want to play. So even though the schools of magic don't really exist in 4e D&D like they used to in previous editions, if a player really wants to run a divination Wizard my feeling is to let them. Now the challenge becomes how to incorporate divinations into the campaign.
When we were introduced to rituals in 4e D&D this seemed like the perfect place for divinations. After all most divinations, especially powerful divinations, require significant preparation. They aren't the kind of magic that can be fired off in a few seconds. More importantly they rarely have the kind of outcome that is useful in a combat situation.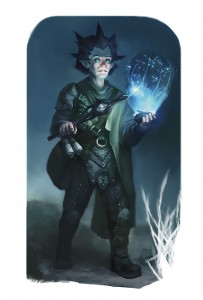 Powers in 4e D&D that use divination magic tend to have very limited and small effects, like getting to reroll an attack or having the DM reroll an attack that he just made against you. Anything more complicated than that doesn't really have a place in the midst of combat. Or more to the point is that there isn't an easy way to incorporate divinations into combat situations. As I mentioned before, with as many as seven people affecting the outcome of the battle raging at your gaming table it's impossible for even the DM to predict with certainty what's going to happen.
But this doesn't mean that divination magic doesn't have a place in 4e D&D. There are a lot of very useful divination rituals. The way that they've been incorporated into the game is that the vast majority of them focus on looking backwards. There are only a select few, like Voice of Fate, that provide a glimpse of the future. And in the case of Voice of Fate it's a level 26 ritual. By the time the PCs reach that level they should be able to affect the outcome of any divination.
I must admit that I'm not a big fan of divinations at the game table. I like them a lot when I read about them in the various D&D novels, but at a live gaming table they just become too unpredictable. I don't think it's fair to have a PC put time and resources into a powerful divination and then not get a satisfying and accurate response to the magic. So even if as the DM I say that someone will live of die, I don't control the players and that creates uncertainty.
I think that the compromise that the Wizard of the Coast folks made by keeping most divination confined to rituals is the right way to go. And at the end of the day I think we'll find that most players would rather fire magic missiles and fireballs, inflicting damage to their opponents and levelling the battlefield then try to predict the outcome before or during the fight. Divinations aren't sexy. In fact in the heat of combat they would just become slow and cumbersome. Players insisting that they want to try and use them in combat will likely feel a lot of pressure from other players to wait and use them outside of combat.
Using divinations to see the future almost seems like a cheat. Knowing the answers before hand takes some of the fun out of the game. I prefer to keep divinations in the hands of the NPCs. This way I can provide just enough information to PCs to keep them interested without providing too many details to spoil the upcoming campaign. By leaving this kind of magic to the NPCs I don't feel that I'm denying the PCs something that should rightfully be theirs. If PCs choose to use divination rituals then I'm perfectly ok with that, but the idea of giving a Wizard at-will or encounter divination powers that let them see into the future (beyond their next turn) seems too unpredictable and potentially too powerful.
This is one of those rare instances when I'm not terribly upset that the eight traditional schools of Wizard magic disappeared with 4e D&D. In the world of 4e D&D I don't see a divination Wizard being on par with other, more offensive character. Let's just leave the divination to rituals for now.
Do you use divination magic at your gaming table? What 4e experiences have you had where PCs have tried to use divinations to see into the future? Have they met with success, failure or something in between?
Related reading:

Looking for instant updates? Subscribe to the Dungeon's Master feed!