Warning: This article discusses topics that are for mature readers. The ideas presented herein are intended to encourage a frank and mature discussion about adding darker, seedier topics to games with mature players. These ideas are being presented in the context of an imaginary, fantasy, role-playing game and are in no way intended to encourage, promote or glamourize them.
Sex, Drugs, Alcohol, Slavery. These are not the kind of things you generally think about including in a typical D&D game. After all, in a fantasy world why not preserve the fantasy and keep things idyllic? The only Evil (with a capital "E") in most D&D campaigns are the monsters and NPCs bent on ruling or destroying the world. These are things the heroes can deal with, often at the end of a sword. Throwing more complicated Evils into a campaign setting, problems like substances abuse and slavery, for example, are not generally the kinds of things that can a) be handled by the PCs alone, or b) resolved in a single adventure. These are "big picture" problems that would just muddy the waters of most D&D campaign settings. Yet they are problems and issues that would certainly be present in most campaign settings. After all, these are problems that almost every society on Earth has faced and still does face in one way or another. So why not add them to your role-playing games and give the players a chance to try to do something about it?
A lot of gamers (I'd even go so far as to say most gamers) are unlikely to want these kind of big picture topics to be relevant to their adventures. They add little or no value to the normal exploration and monster combat that makes up so much of D&D adventures. Players want their PC's to explore ancient runes, delve the deepest dungeons, rescue the princess, and slay the dragon. They don't want to deal with the problems that drug abuse can have on individuals or on a society. They only want to focus on the positive aspects of the game and the positive aspects of the gaming world.
But just because these kinds of problems are not described or explored in most games doesn't mean that they don't (or couldn't) exist if the DM chose to make them more prominent. These Evils are not things that I would encourage most people to add to their campaign world, but for gamers with years of experience exploring these issues in-game could add something that we've always lacked in our game – a dose of gritty reality.
The Sex Trade
In a world with so many different races and exotic creatures there are certainly sexual encounters between many of the various races. After all we have Half-Elves so we know that the Humans and Elves interbred liberally at some point in their cultures' past. It seems naive to believe that none of the other races fooled around. It's unlikely that many of these unusual pairings led to offspring, but there was certainly interracial sexual exploration.
In real life there is a thriving sex trade where a lot of people make a lot of money. I don't see thing being any different in a fantasy camping setting. At the most basic level, fantasy settings usually have brothels and strip clubs. After all, the curiosity factor would likely draw a lot of visitors. On the rare occasions when these settings were included in games I've played, the DM always descried the employees of these locales as willing participants. Encounters in-game were always consensual; the employees provided a service for which they were handsomely compensated. There was never any violence or hint that someone was doing this against their will. After all this is a fantasy setting. So is there any value in exploring the grittier, dirtier, more realistic angle of how the sex trade would likely run in a fantasy setting?
Drugs and Alcohol
Substance abuse is a problem that has plagued mankind for centuries. Yet in most D&D setting there is no mention of illicit drugs. The only substance that even comes close is alcohol. However, no one is ever seen as having a problem with booze. Sure the Dwarves as a race like their ale a bit more than most others, and every tavern my PCs ever visit always have at least one NPC described as the local drunk, but never have we had to deal with an in-game alcoholic or the problems related to their substance abuse. Perhaps this is because alcohol is seen as more socially acceptable. In-game alcohol consumption is usually seen as funny and a way to let PCs do crazy things without fear of consequence, but even then the actions are usually more playful than harmful.
When it comes to more traditional hard drugs I've never encountered anyone in a fantasy RPG who cultivated, sold, distributed or consumed drugs, aside from the occasional NPC with pipeweed (which we always played as tobacco despite Tolkien's allusion to it being more potent). Yet if we think about all of the fantastic plants and animals that make up most campaign worlds there are certainly all kinds of things that will get you high. Many articles have been written about various poisons available in D&D, so you know that there is a thriving market (although usually an illegal market) for these poisons. Someone is obviously doing some experimentation to determine which substances are dangerous and documenting the effects. It's not too difficult to imagine that during this experimentation some of the substances identified are basically drugs.
Substance abuse is a real problem that has devastating effects on the people who use and the people in their lives. No one takes drugs with the intention of becoming an addict, but they all felt that they had a good reason to start. In a fantasy world it's possible that some drugs in the campaign might actually provide mechanical benefits to users. This might explain why PCs would want to try them. However, most drugs are incredibly addictive so there is always risk.
Wherever there are drugs and alcohol there are people making money off of them. If the drugs are cultivated from plants then territories where they grow will be controlled by the people making money. Likewise if a creature's fluids, scales, horns, or organs are ingredients for drugs then those creatures will be hunted or bred for profit.
Slavery
Slavery is actually some thing that we do see in some D&D adventures, but when we do it's lesser, monstrous races like Goblins or Kobolds that are usually the enslaved creatures. This is deemed acceptable to a certain extent because these are monsters and not people. Occasionally adventurs will require that the PCs rescue victims from civilized society who were kidnapped and forced into some kind of slave labour. But these are usually one-off scenarios where a group of bandits needs workers to help them transport goods or a renegade miner is looking for unpaid labourers to work his mine. Very few games have sentient races enslaving other sentient races as a way of life; Dark Sun being one of the few notable exceptions.
Yet it is possible, and highly probable, that some races and cultures in a fantasy setting would have entire economies built on slavery and ownership of others. It might be the Humans enslaving all the other non-human races or that Dwarves enslave the Elves. Regardless of the specifics, buying, selling and owning slaves is deemed acceptable in the context of these societies and that's just the way things are. In Eberron House Cannith created artificial beings as warriors but eventually the Warforged attained a level of sentience that required they be granted their freedom. Until then, owning Warforged wasn't any different from owning a sword. Attitudes will be very different in these game worlds where slavery is commonplace than they are in real life.
Keeping Up The Fantasy
Fantasy gaming is a form of escape. People play D&D and other fantasy RPGs to play heroic characters that can do extraordinary things. Players want to face conflicts they can defeat and then move on. Very few are interested in playing in any setting where NPCs are forced into the sex trade, towns have rampant drug abuse, and slavery is acceptable. These are just a few topics that, although they could be included into any setting, are not generally something we want to include. After all, most of us get enough reality in real life; we play games to have fun and enjoy the experience.
Role-playing an encounter where the PCs are powerless to stop a death from a drug overdose, or have to interact with the alcoholic who beats his kids, or must traffic in slaves to get the money they need to complete their quest, isn't something most of us want to experience. Yet some gamers, especially those who have played for a long time and are looking to add some realism and grit to their campaigns, might want to see how things would change by talking about the things we never talk about in D&D. They're not doing it so that their characters can partake in these deplorable acts; they just want to see the fantasy world without the romanticism and rose-coloured glasses. I'm not saying that the games will be better or worse, but adding any of these elements will certainly change the kind of adventures your PCs will participate in if there is more Evil in the game world.
Gritty Fantasy Fiction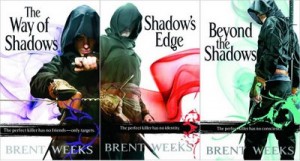 The Night Angel Trilogy by Brent Weeks is an excellent example of dark, gritty fantasy that doesn't pull punches or try to portray a glamourous fantasy setting. The world is as dark and Evil as you can imagine. Many of the characters do deplorable things to survive; and often it's just seen as the way things are. Despite the grim setting and harsh reality embedded in these books, it is one of the best series I've ever read. In my opinion adding the big picture problems to the setting actually gives the novels increased credibility. When characters triumph you really feel their sense of accomplishment even though they've likely done horrific acts along the way. This series is definitely for mature readers.
Now that I've had my say I open the floor to your feedback and comments. Do you think that there is any benefit to adding these bigger picture problems and issues to D&D? Should fantasy role-playing games remain idyllic and romantic and simply ignore that any of these things could possible exist? How have these elements, or other Evils, been portrayed in your games? Do you romanticize them or just exclude them all together?

Looking for instant updates? Subscribe to the Dungeon's Master feed!