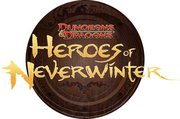 I felt like I was playing Pools of Radiance. This was my impression 30 seconds into playing Heroes of Neverwinter. Why is this significant? Pools of Radiance was my gateway into the greater world of Dungeons & Dragons. It was like getting a shot of nostalgia right in the arm. I was hooked and there was nothing I could do about it.
Early in September we offered Beta codes for Heroes of Neverwinter to 100 readers. Now that the game has been officially released I'd like to share my thoughts on the game and hope to solicit yours. Also, be sure to stay tuned to Dungeon's Master in October as we will have an interview with the Heroes of Neverwinter developer, Ed Del Castillo.
Heroes of Neverwinter has obviously been timed to coincide with the release of the Neverwinter Campaign Setting. The game has you creating a hero and venturing forth to save the city and surrounding environs.
Character creation is straightforward and fast. You have an option of four races; Human, Eladrin, Halfling or Dragonborn. A slight change from what we are used to seeing, in that there is no Dwarf or Elf. There are also four classes available and what they are should be an easy guess; Cleric, Fighter, Rogue and Wizard. Each of the races corresponds best with one particular class, but that doesn't mean you can't try a different combination.
Level progression has you selecting new powers, some of these mimic existing 4e powers and some are close examples. You also receive the standard attribute bump at level 4 and level 8. After completing each dungeon you are ranked on three categories: Slayer, Endurance and Style. As each name suggests points are awarded for your ability to survive, use tactics and deal damage. Combat is fairly standard 4e fair with a few exceptions. There are no opportunity attacks and flanking works simply by having two party members adjacent to an enemy.
Game play is addictive and fun. There were many nights when I would play my Fighter, then rotate my Cleric in, followed by my Rogue. Rinse and repeat for a fun, casual night of gaming. Heroes of Neverwinter is not a solo game, it is expected that for most dungeons you will want a balanced party. You have two options when it comes to building your party, you can recruit your friends' characters for free or you can pay some gold in-game to hire someone at the tavern. No you cannot hire a level 4 hero, kill him during combat and take his stuff.
Another interesting element that the developers put in the game is the ability to spectate when anyone is using one of your characters. That's right you can watch other players plow through dungeons, watching their use of tactics. You can even assist in the adventure by providing different bonuses as they play. Spectator mode also features limited chat functionality.
At level 10 the dungeon editor becomes available allowing you to create your own dungeons to challenge various players with. I've played some custom dungeons and many are a blast. Sadly, because of abuse by players, you don't earn experience for completing a user-created dungeon. The sole purpose for creating them now in my mind is to make a dungeon that challenges players to think tactically and pray that the dice are with them.
The game does allow you to use Facebook credits to refresh timers, buy equipment or even get you out of a bind. I'm not a fan of this system, but I understand it costs money to develop the game. You do not have to use Facebook credits to enjoy the game, so don't feel they are mandatory and the game isn't intrusive about getting you to buy any credits.
Of course the game isn't perfect and there are a few issues that I'm not a big fan of, but most of these are fairly minor. The first thing I dislike is the only way to control the way your party enters a room is by the order you recruited them. As you always enter a room in a T formation you have three characters up front. I normally play with a Fighter, Cleric and two Wizards. Which means one of my softer players is always front and center.
Another aspect of the game that I would like to see changed is how area of effect spells affect enemies only. I really wish there was a way to enable a harder game mode where my fireballs could damage my party as a way of upping the challenge.
Another dislike is the ability to share equipment between characters. My Fighter has a great suit of Exalted Armor that my Cleric can't use because I can't give it to him.
Finally we need more to do at level 10. As a level 10 character won't earn more experience the only option is to create a new character and advance them, which is a lot of fun but isn't anything new as you've already played all the characters over the career of your primary character.
Overall Heroes of Neverwinter is a great game. It has certainly provided some necessary and some not so necessary distractions for me over the past few weeks that I've been enjoying the Beta.
What are your thoughts on the Heroes of Neverwinter? Is there an aspect of the game that you enjoy or does something just drive you nuts about it?

Looking for instant updates? Subscribe to the Dungeon's Master feed!