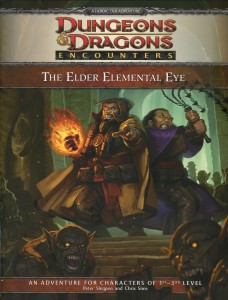 Season 8 of D&D Encounters begins on Wednesday, February 22. This adventure coincides with Wizards of the Coast's latest product offering, Heroes of the Elemental Chaos which hits shelves on February 21.
Below is a high-level overview of what you can expect during the coming season of D&D Encounters. It relatively spoiler-free.
The Adventure
This adventure brings us back to the Forgotten Realms and once again ties into the ongoing, cross-world saga of the Abyssal Plague. The adventure begins in the independent city-state of Iriaebor. Knowing this, some players may want to give their PCs a back-story and even backgrounds that have them from Elturguard or one of the nearby regions such as Cormyr, the Dalelands or the Dragon Coast.
The adventure itself has 11 encounters. Chapter 1 is three weeks, chapter 2 is four weeks and chapter 3 is four weeks. However, the character are given an opportunity to take an extended rest between weeks 10 and the climax in week 11. This means that PCs will be at full power, have an action point, their daily powers, full hit points and all their healing surges when they face the big boss at the end. I really, really like this idea.
Throughout the previous few seasons of D&D Encounters resource management was a real problem with my groups, especially the younger players. This meant that when the finally got to the end they were so depleted that they were almost always killed and that's no fun for anyone. Taking the extended rest before the final showdown means that DMs can really go at the PCs and not have to worry about holding back. It also means that the encounter will be the most difficult of the adventurer and let me tell you it certainly looks like it's going to be. Good luck heroes!
One huge improvement in the way this adventure is set up is that at the beginning of each session the DM is provided with a series of summary bullets which he's instructed to read to the party. This ensures that the players remember what's going on and that important details are not forgotten. This also helps if someone is new to the adventure or missed a week. I'm amazed it took eight seasons before Wizards realized that adding this was a good thing.
Many people will be glad to learn that unlike the previous season of D&D Encounters where there seemed to be endless NPCs, this adventure only introduces a few that you need to keep track of. Their names and relevance are included in the weekly recap bullets.
I was really happy to see that the entirety of chapter 2 and some of chapter 3 have the PCs doing a dungeon crawl. The last time the PCs had anything like this was way back in the first season of D&D Encounters. However, this time around they're doing it because they want to and not because they're trapped and looking for an exit. The DM has the entire dungeon mapped out in the adventure with key rooms provided on the full colour poster maps. Only a few areas have monsters which leaves the PCs with plenty of room to explore and have fun in the dungeon without getting slaughters every time the move from one room to the next.
The adventure seems to have a good balance of role-playing and combat. There are structured skill challenges and there are consequences for failure so take them seriously. Character designed for combat and nothing else will have difficulty with this adventure as it's not just hack and slash.
Regrettably there are no situations in this adventure where the actions of the PCs will dictate which one of multiple scenarios they'll get to play. However, given the very linear progression of the story I don't think it would have fit anyway. The closest they come to this is during the exploration of the dungeon.
Character Creation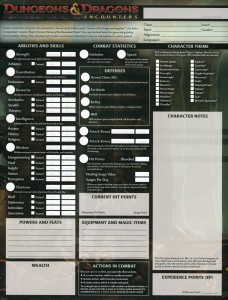 Last season Wizards made a significant change to the D&D Encounters program — they introduced week 0. Moving forward every season of D&D Encoutners will begin with a week 0. This gives the players a chance to create characters together, or at least discus options. I know that this would really be helpful for the groups I play with as we never seem to have enough leaders.
Again this season Wizards provided special character sheets. These are Elder Elemental Eye themed and look great.
The new book (in this case Heroes of the Elemental Chaos) is officially released the day before week 0 and the character builder is updated at the same time. This makes it easy for players to use these new options when making their characters (something Wizards strongly encourages).
Although the DM can participate in week 0 there is no need for him to be there. For DMs like myself it's a good chance to just relax and take a week off before diving right into the next season.
Pre-Generated Characters
The same stock pre-gens were provided in the DMs kit. You can find them along with all the other pre-gens Wizards has provided since D&D Encounters began in the Dungeon's Master Pre-Generated Character Library. We've reached out to our friends in the D&D community and hope to have some new pre-gens available by the time the season starts.
Amazing Maps
Every season I talk about how much I like the maps. This season is no exception. The maps are spectacular. Earlier this month I wrote about DM Compensation for running D&D Encounters. The biggest motivator for many of us is that we get to keep the adventure and maps when the season is completed. These maps are awesome and DMs should have no trouble reusing them in their home campaign.
Initiative Tracker
Along with the special themed character sheets we once again received Elder Elemental Eye themed initiative tracking cards. If you've got Initiative Trackers from multiple seasons mixing and matching them will certainly make it easier to distinguish the heroes from the monsters.
Fortune Cards
Although we don't use Fortune Cards in my games they are obviously popular since Wizards keeps producing new sets along with every season of D&D Encounters. This season players can earn up to three special promo Fortune Cards exclusive to D&D Encounters.
When a player earns 20 Renown Points, they earn the Questionable Intent (promo 3) Fortune Card.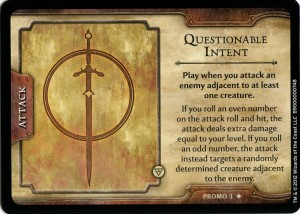 When a player earns 40 Renown Points, they earn the Demented Assault (promo 2) Fortune Card.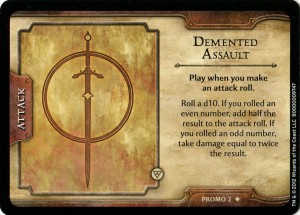 When a player earns 60 Renown Points, they earn the Worth the Price (promo 1) Fortune Card.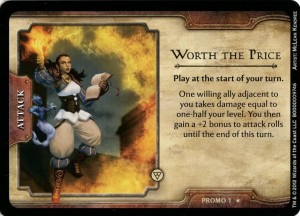 The Adventure Begins
Each season Wizards seems to learn from the season that came before it. The Elder Elemental Eye looks like another outstanding adventure. I can't wait to begin running it. The inclusion of an old-fashioned dungeon crawl should really appeal to old school gamers while giving new players a taste of what many of the older adventures used to be like (and may be like again with the next iteration of D&D). Season 8 begins on Wednesday, February 22.
Visit the Dungeon's Master D&D Encounters Archive for all of our ongoing weekly coverage as well as other great D&D Encounters articles and resources.

Looking for instant updates? Subscribe to the Dungeon's Master feed!