Keep the design simple, make the layout easy to follow and eliminate guess work. This is good advice if you're designing a website or improving the Monster Manual. Yes, the masterminds at Wizards of the Coast have improved the Monster Manual. We're not just talking about the release of new monsters, we're talking about redesigned monster stat blocks.
In Bill Slavicsek's latest Ampersand article Beyond Essentials … (release online yesterday to DDI subscribers) from Dragon#385, he debuted the forthcoming changes to monster stat blocks in 4e D&D. "We've reorganized the information to make it easier to use and so that you can immediately find the details you need to run the monsters."
The changes may not seem that significant at first, but after a side-by-side comparison between the old format and the new, I'm completely sold on these improvements.
Before I get into my thoughts on why this improvement is so great, let's look at an example of the new stat block side-by-side with the existing stat block. I give you the Kobold Dragonshield, first in it's current layout and then as presented in Slavicsek's article.
Here's the current stat block as it appears in the Monster Manual (generated in Monster Builder).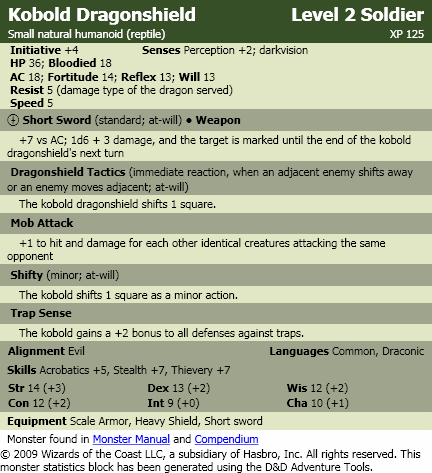 Here's the stat block presented in the new format. (Click on the stat block to enlarge.)
Here are my thoughts (good and bad) about the new layout.
Consistency

I spent a lot of time as a player in 4e D&D before I took my turn behind the DM's screen. The new design presents the monster's powers in much the same way the player's powers are presented in the Players Handbook. This makes the transition from player to DM a lot easier. This is especially important for new DMs just discovering D&D.

Powers Grouped by Category

When I'm running monsters with a lot of powers I often overlook stuff because I didn't realize it was an immediate interrupt or a minor action. By grouping powers into categories based on action type I can use the monster more effectively. The truly dangerous monsters live up to their full potential. I'm a lot less likely to miss something because it looked like every other power.

Space Hog

The new formatting does take up a little bit more real estate, which does trouble me a little bit. If the monster stat blocks are longer because of the new layout then something's going to be sacrificed in future monster manuals (assuming they don't increase the number of pages). It begs the question, what was left out? Do we get less art, skimpier flavour text or fewer monsters?

DDI Makes the Changes More Meaningful

With so much of the game shifting to online tools, this kind of design change doesn't mean that we have to go out and purchase new books just because the monster stat blocks were changed. All of the monsters in Monster Manual and Monster Manual 2 (as well as every other official release) are available to DDI subscribers in the Monster Builder. I can only assume that Monster Builder will get a back-end fix and all the great material already available online will automatically be converted to the new layout. We'll see these changes first hand in June with the release of Monster Manual 3. If the Monster Builder hasn't been updated with the new format by then, I'd expect to see it applied in the next update in July. If it happens any later or if it doesn't happen at all, Wizards has done its subscribers a huge disservice.
It's interesting to note that none of the information or detail was changed. They've taken the existing content and rearranged it. There were no rule changes or new powers added. It's simply an interface improvement. And sometimes it's this kind of simple fix that has the greatest impact to the game. I for one can't wait to use monsters presented in the new format against my PCs. I think they'll find that many of the monsters they thought they knew suddenly seem a lot more powerful.
Be sure to visit Dungeon's Master again later today when Suddry weighs in with his take on these changes. See Wizards Delivers a Monster Makeover (Part 2).

Looking for instant updates? Subscribe to the Dungeon's Master feed!