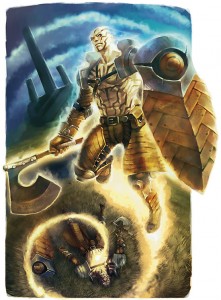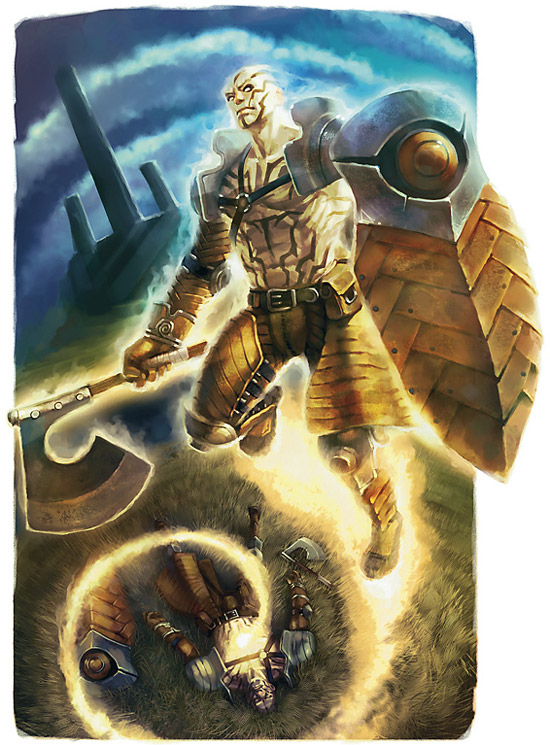 Me Smash! You go crush! Me smash, you crush!
I'll admit these were my initial thoughts on the Goliath and things haven't changed much. Perhaps my stereotypes aren't fair or justified, but that's ok because they're mine. I don't like the Goliath for a number of reasons, however I wanted to give this giant of a race a fair shot. So here is my take on them, my perceptions of their strengths and weaknesses. You may also want to see my thoughts on Dwarves (the best race) and Tieflings.
Attribute Bonuses
Goliaths receive a bonus to both Strength and Constitution. This makes them great in the defender role. They have the ability to absorb damage and the requisite strength that these classes normally require to dish out the pain.
However, having a bonus to two attributes that feed into the same defense is a big weakness in my mind. The tendency in selecting a race that has attribute bonuses that both feed into a particular role or class is to embrace it. What this results in is lower attributes at the other end. If you select the Goliath for the purpose of excelling as a Barbarian or Fighter, be wary of having a really low Reflex or Will defense. You will pay for it down the road.
The following classes use either Strength or Constitution as a primary attribute: Barbarian, Battlemind, Fighter, Paladin, Warden, Warlock and Warlord. Six classes use Strength as a secondary attribute and twelve use Constitution as a secondary attribute.
Skill Bonuses
Goliath's receive a racial bonus to Athletics and Nature. The bonus to Athletics compliments the Strength bonus Goliaths receive. Given the powerful athlete racial power, detailed below, the choice is either to completely maximize the Athletics skill and train it or spend the skill training elsewhere. The reality is that most classes that use Strength as primary attribute only receive a limited amount of skills for training and almost all of them have Athletics on their list. As a result it may be difficult to select a different skill.
Racial Benefits
Mountain Tenacity
I really think the designers of the Goliath threw this race a bone with this one. Recognizing that Goliaths really are defender type character who may suffer from a low will defense they've provided a +1 built in. I'm never one to turn down a bonus to a defense and for the Goliath this is a welcome addition.
Powerful Athlete
Seriously?
Roll twice for Athletics when jumping or climbing? Ok I can see the benefit, but unless you go out of your way to jump and climb how often is this benefit really going to matter? Now granted your Goliath might be wearing heavy armour and suffering from an armour check penalty so maybe rolling twice is a good thing, but talk about a yawner of a racial benefit. Yes, it compliments the Strength and Athletics bonus, but boring.
I think Dwarves get the racial benefit that Goliaths should, which is stand your ground. Granted Dwarves already have that benefit so I guess the Goliath is out of luck.
Stone's Endurance
Stone's Endurance is a great encounter power, allowing the Goliath to gain resist 5 to all damage until the end of its next turn. There are all kinds of tactical considerations where this ability can be used to great effect. Whether its to ensure the Goliath stands for one more round or to mitigate damage that will be incurred from opportunity attacks. This power really emphasises that the Goliath is a physical presence on the battlefield.
Class Considerations
The Goliath is geared towards classes that rely on Strength and Constitution. To that end the Barbarian, Fighter and Warden make the most sense from a pure mechanics standpoint. Other interesting options are available to the Goliath and the Warlock is perhaps the most atypical available that still uses a primary attribute.
One great strength of the Goliath is that Constitution is a secondary attribute for twelve classes which opens up a great deal of options for a player who selects the Goliath.
Classes That Use Strength As A Primary Attribute (6/25)
Barbarian
Fighter
Paladin
Ranger
Warden
Warlord
Classes That Use Constitution As A Primary Attribute (2/25)
Classes That Use Strength As A Secondary Attribute (6/25)
Cleric
Monk
Rogue
Seeker
Sorcerer
Swordmage
Classes That Use Constitution As A Secondary Attribute (12/25)
Ardent
Artificer
Assassin
Barbarian
Bard
Druid
Fighter
Invoker
Shaman
Swordmage
Warden
Warlock
Classes That Use Strength As A Primary, Constitution As A Secondary Attribute
Classes That Use Constitution As A Primary, Strength As A Secondary Attribute
Classes That Use Both Attributes As A Secondary Attribute
Ok, I wasn't as hard on the Goliath as I thought I would be. The truth is I use this race when I'm playing a defender in a dungeon delve. They make great throw away characters and perhaps that's my problem with them. I just don't feel that the Goliath fits in with the lore of Dungeons & Dragons. I also feel that other races fill the role that the Goliath is geared to better. Namely the Dwarf.
What are your thoughts on the Goliath? While I haven't been overly harsh they are low on my list of favourite races. Am I being unfair? Have I missed some glaringly obvious point that makes the Goliath a shining beacon of a race?

Looking for instant updates? Subscribe to the Dungeon's Master feed!